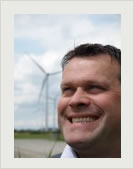 Erik van Bodegraven
Erik van Bodegraven has been active in the (renewable) energy sector since 1999 and especially focussed on project management, contract management and project development for onshore and offshore wind farms in the Netherlands and abroad. Erik is a manager with a technical background and has a broad knowledge and experience in management and projects.
Erik has a background as manager and advisor and among others fulfilled functions for management and interim management for several organizations, projects and assignments in renewable energy, as well as other sectors. As an independent advisor Erik focussed on project development, contract management, project management and management activities in renewable energy.
Erik about himself and Edelweiss:
"I am an entrepreneur that combines its management capabilities with his knowledge and experience with a clear, honest and open approach, which finds it essential to make a success of every project or assignment. It is a passion for me to be able to contribute to a sustainable future and undertake herein with people who are additional and complementary to each other and who are driven to achieve result for every challenge they rise to. With Edelweiss it is possible through our knowledge and
experience and because we are complementary, to fulfil this and realize further optimization in a sustainable relation and future."
Contact Erik
Erik van Bodegraven
M +31 (0)6 514 866 72
E erik@edelweiss-renewables.com
Office Address
Marchandweg 30
3771 MP Barneveld
Nederland / The Netherlands
Postbus / P.O. Box 509
NL-2270 AM Voorburg
Edelweiss Renewables Advisors B.V.